So while i'm watching Glee and waiting for FitBlog! I was looking at some blogs, and found out that i was given an award :)
this is my FIRST AWARD! This is so exciting, and i am so excited!
The award was given from
Jessica
over at Rotund Revolution. So Thank You jess!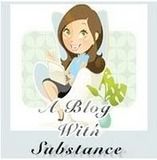 With this award, comes three requirements!
1. Thank the person who gave it to you. Jessica, you totally made my day! I'm glad we're blogging friends, and i'm glad we found each other. (cheesy yes, but true). I feel like a real blogger with my first award :)
2. Sum up your blog philosophy in five words. Five words. Only five words, goodness: I WILL NOT GIVE UP!
3. Pay it forward by nominate ten more awesome bloggers.
Also, tonight was my 2nd fitblog session, and i absolutely love it! Here's a link for anyone not involved to check it out -- http://katywidrick.com/fitblogchat